Discover your next step while learning valuable paint and leadership skills.
We view your experience at NOVO as a time for you to grow, progress, and exceed your own expectations. Whether you are just starting out or are an experienced painter, we can offer opportunities to help you reach that next step toward where you want to go.
OUR APPROACH
We focus on a strong and unified company culture rooted in our uncompromising values. Our culture can be simplified down to each individual's ability to build trust and earn respect.
No experience? If you have a willingness to learn and can check any ego at the door, we'll train you on basic painting skills and help you work up from there.
Experienced Painter? We can offer advancement beyond a typical Lead Painter, where you would learn additional leadership skills and have greater opportunities.
PAY & BENEFITS
$13.00-$40.00 hourly
Vacation time
Paid training on craft skills, leadership, and management
We prioritize your attitude, working values, and spirit over paint craft skills and experience.
LEADERSHIP TRAINING
Emerging Leaders
We are committed to providing our employees the opportunity to learn and grow as emerging leaders. We don't just develop painters, we build leadership skills and provide professional working experience so that our team members may further their careers and personal growth. Our success is determined by the amount of positive impact that we can have on individuals.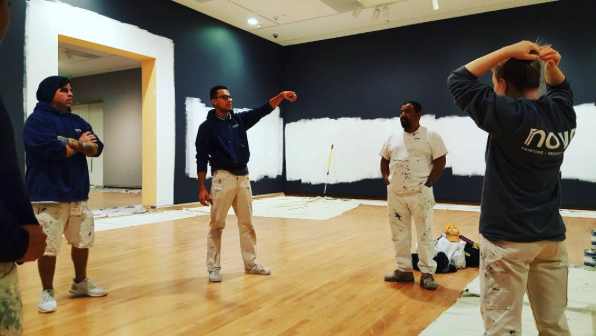 Job Lead
Job Leads can have any level of Craft Skills, but must also possess or are willing to learn the following leadership skills:
Customer Management
Job Planning & Preparation
Estimating
Material Management
Crew Management & Leadership
Safety Paperwork & Requirements
Jobsite Huddle
Job Strategy
Client Relationships
Additional Work Orders
Daily Job Reports
Job Costing 
CRAFT SKILLS
Apprentice / Trainee
In this entry-level position, you will have the opportunity to build a solid foundation and unique skill set that will ensure your success here at NOVO. Some of the training includes:
New Hire Orientation
NOVO Culture and Core Values
Company Handbook
Introduction to Painting
Introduction to Leadership Training
Basic Construction Safety
In-House Certification
Equipment Maintenance 
Painter
In this position, you will continue to build your painting and leadership skills. Training includes:
First Aid / CPR Certification
Introduction to Paints & Coatings
Ladders, Scaffolds, Lifts & Fall Protection
Identify Surface / Substrates Materials & Conditions
Protecting Adjacent Surfaces
Basic Surface Preparation
Sealants & Repairs / Fillers
Brushing & Rolling Paints & Coatings
Spray Application Techniques
Power Washing
Advanced Painter
This position is focused on the refinement of your craft skills and further development of your leadership skills. Training Includes:
Stains & Clear Application
HVLP & Airless Spray Techniques
Drywall Patching, Texturing & Finishing
Wood Finishing
2-Part Epoxies
Light Carpentry Repairs
Lift Certification
EPA Lead Safety Certifications
Epoxy Wood Repairs
Minor Deck Repairs
Paint Failure Problem Solving Skills
We are always looking for talented people to join our team. NOVO is an equal opportunity employer, Preferred Worker friendly, and a drug-free workplace. Questions? Contact Cole Palea at cole@novopainting.com or (206) 789-1264.